Troops enhance the stats of the corresponding hero in your team. You can only use troops of the same colour as the hero.  The increase in stats is passive and works in any game mode.
The stongest troops are 4*, but it is advised to keep some 3* and 2* Troops for the monthly Challenge Event and the Weekly Raid Tournaments.
Attacking With Your Troops
Attacking with your troops is an automatic process that happens each time
you make a match on the battlefield
.  When a match is made, the shields/gems turn into troops which then do damage to the enemy dependant upon the hero's attack and element.
Summoning Troops
Troops can be gained as stage reward on the world map or summoned with the Daily Summon or Epic Troop Summon.
Troop Summon Chances

| | Daily Summon | Epic Troop Summon |
| --- | --- | --- |
| 1* | 16% | 0% |
| 2* | 15,7% | 0% |
| 3* | 1,7% | 90% |
| 4* | 0% | 10% |
Leveling Troops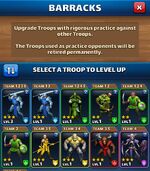 Troops can be leveled with
food
by sacrificing other troops of the same colour in the
Barracks
.
Max Troop Levels
Max Troop Level
Barracks Level

Required

1*
10
2

2*

15
4
3*
20
6
4*
30
10
Troop Stats
Most troops are Attack or Defense troops.  There is a 3* Hybrid variant, and 4* troops are divided into Crit or Mana due to their strong focus on that particular stat.  The following infographic shows the in-game icons for each troop stat, followed by a listing of the percentage increased by each particular troop (infographics courtesy of N.O.X. ):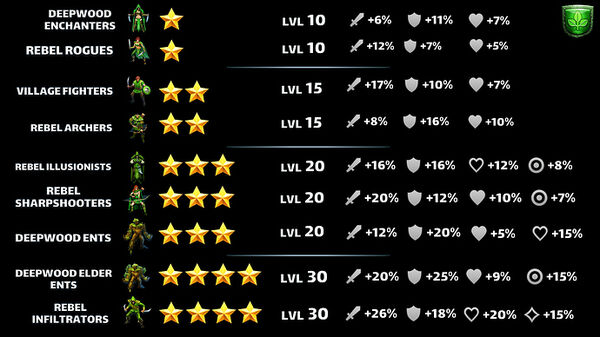 * It should be noted that the above graphic, although it names and depicts only Nature Troops, displays information that is relevant to all troop types.  Only the names and icons are different among the other elements.
Mana Troop Level Breakpoints
Mana troops in particular have important breakpoints that have a greater effect than other levels.  These are:
  Lvl 11:  Very Fast decreases to an even 6 tiles
  Lvl 17:  Slow decreases from 12 to 11 tiles
  Lvl 23:  Average decreases from 10 to 9 tiles
  Lvl 29:  Fast decreases from 8 to 7 tiles
Due to the nature of the match 3 gameplay levels 11 and 23 are particularly impactful.  (Source)
These numbers may also be affected by a hero's Talents.
Community content is available under
CC-BY-SA
unless otherwise noted.