Tokens are used for summons and are found under the general tab in your inventory. Players sometimes refer to tokens as "coins."
All tokens can be awarded as loot from the following:
There are 5 types of tokens:
Summon Token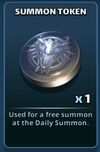 Summon Tokens are silver with a dragon's face on them.
A Summon Token is good for one daily summon, which awards a 1*, 2*, or 3* hero or troop.
Epic Troop Token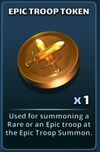 Epic Troop Tokens are gold showing 2 crossed swords.
1 Epic Troop Token is good for 1 epic troop summons, which awards a 3* or 4* troop.
Epic Hero Token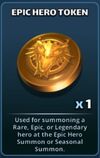 Epic Hero Tokens are gold with a dragon's face on them.
A Epic Hero Token is good for one epic hero summon.  This type of summons will award a 3*, 4*, or 5* hero and is eligible for the Hero of the Month bonus draw.
The Epic Hero Summon becomes a Seasonal Summon during seasonal events. Some players prefer to save these tokens for a chance to get seasonal heroes during those events.
Atlantis Coins
Atlantis coins are cream colored octagons with a blue Lambda symbol on them.
100 Atlantis coins are needed for an Atlantis summon, which is available during the last full weekend of the month. This type of summon will award a 3*, 4*, or 5* hero and is eligible for the Hero of the Month bonus draw.
Atlantis coins are also awarded for completing Season 2 stages on the map. Three Atlantis coins are awarded the first time you complete a Season 2 stage in normal mode, five coins are awarded for first hard mode completion. Thus each stage is worth a total of 8 coins, with a possible total of 80 coins per province. The number of coins you have earned is visible on the map.
Challenge Coins
Challenge coins are bronze colored pentagons with the five event family symbols on each point.
10 Challenge coins are needed to peform an Event summon, avaliable during a challenge event. Players are given the opportunity to pull a 3*, 4*, or 5* hero, alongside a bonus draw for the Hero of the Month.
Challenge coins are exclusively awarded through the completion of tiers in the Challenge Event as well as the conclusion of the event based on rank; the coins can also be rewarded upon defeating Suspicious Chests that have an extremely rare chance to replace an enemy within the stage.
Community content is available under
CC-BY-SA
unless otherwise noted.