Quests are unlocked at player level 10 with the exception of Class Quests which are are unlocked at level 15.
The Quests button is used to access the daily and weekly quests, as well as the less common Challenge and Seasonal Events.
Regular quests include rewards such as "Gather Food" or "Gather Items" and generally consist in three stages of progressing difficulty.  Rare quests rotate weekly and offer an ascension material as their reward. There are also Challenge Events each month, and Seasonal Events around certain holidays.

If you are here in search of information regarding filling your chests, see Wanted Missions.
Regular Quests
Each day the currently available quests are rotated in and out.  These are usually for more mundane items and ingredients.
Tier 1 Quests:
Gather Food Enemies: Enemies are fire, boss is ice.
Gather Food Difficulty: All three stages are below 1800 TP.
Mine Iron Enemies: All enemies are Fire, including the boss.
Mine Iron Difficulty: All three stages are below 1800 TP.
Scavenge Resources Enemies: Fire and Ice minions with a Nature boss
Scavenge Resources Difficulty: All three stages are below 1800 TP.

Tier 2 Quests:
Collect Gems Enemies: Dark and Nature minions with a Fire boss.
Collect Gems 1: 1250 - 1750 TP
Collect Gems 2: 1510 - 2690 TP

Find Battle Items Enemies: Ice and Holy minions with a Dark boss.
Find Battle Items 1: 1250 - 1750 TP
Find Battle Items 2: 1510 - 2750 TP

Find Crafting Items Enemies: Dark and Nature minions with a Nature boss.
Find Crafting Items 1: 1240 - 1700 TP
Find Crafting Items 2: 1500 - 2740 TP

Find Recruits Enemies: All enemies and bosses are Nature.
Find Recruits 1: 1250 - 1750 TP
Find Recruits 2: 1500 - 2720 TP
Find Recruits 2 sometimes awards an Epic Troop Token upon completion.[1]

Source for enemy and Team Power info.
The Six Rare Quests
The rotation of the six quests is:
Farholme Pass (1)
Farholme Pass (2)
Rare Quest Basics
A new rare quest comes around approximately once every two weeks and remains for just one day.  Each one consists in five stages of progressively more difficult enemies.  The Team Power level of these stages varies at approximately:
  1400
  1750
  2250
  2700
  3250
Because of this, not everyone can complete the event, and it is necessary to employ skillful tactics in order to do so.  Enemy and boss details are provided through the links above to each rare quest listed.
Rare Quest Rewards
The rewards for completing a rare quest are two separate rare ascension mats, awarded to those who complete the 4th and 5th stages.  More common ascension mats are rewarded on the earlier stages (such as Training Manuals and the like).
Class Quests
Available twice a week, Class Quests are the primary means to acquire Class Emblems .  They have three different difficulties available.
| Difficulty | Team Power | Player Level Req |
| --- | --- | --- |
| Easy | 2500 | 15 |
| Medium | 3500 | 20 |
| Hard | 4000 | 30 |
Costume Quests
Main article: Costume Quest
See also: Costumes
Every third Monday of the month, Costume Quests become avaliable to obtain Costume Keys for a free summon from the Costume Chamber. Costume Quests have six different difficulties available awarding between one and three Costume Keys.
| Difficulty | Team Power | Keys |
| --- | --- | --- |
| Easy | 2000 | 1 |
| Medium | 2500 | 1 |
| Challenging | 3000 | 1 |
| Hard | 3500 | 2 |
| Very Hard | 4000 | 2 |
| Ultimate | 4500 | 3 |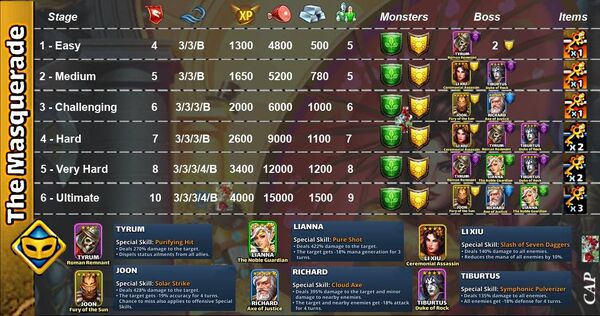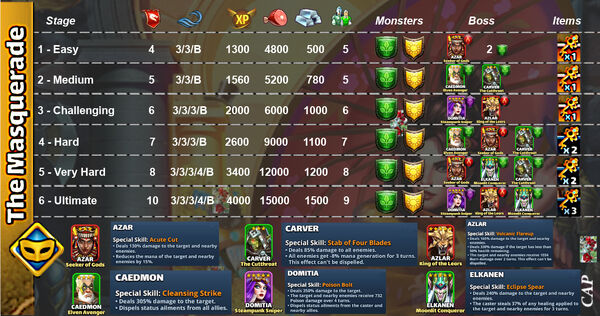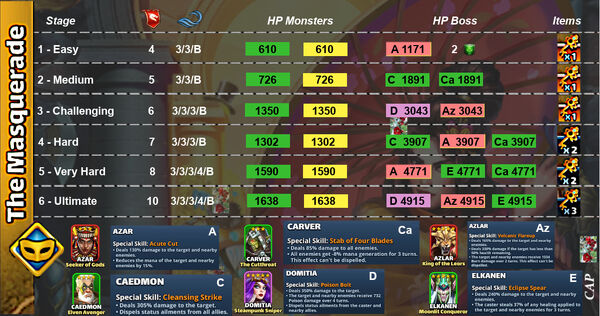 Seasonal and Challenge Events
Each season brings with it one of four special Seasonal Events which also show up under the Quests button.  These are:
The second Thursday of the month also brings with it a Challenge Event that shows up under the Quests button.  These rotate between:
Community content is available under
CC-BY-SA
unless otherwise noted.