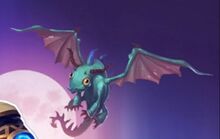 If you purchase the VIP pass in the shop, a baby dragon will appear on the left side of your stronghold, flying above a nest for as long as the pass is active.
Collecting From The Dragon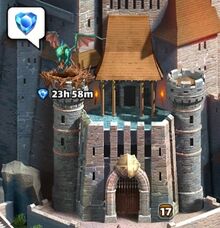 Once a day, the dragon will make 30 gems and 3 loot tickets available. The exact time of day will depend on when your purchased the VIP pass. When they are available, a gem icon will appear in a white bubble above the dragon. Clicking on this icon will collect the gems.
The gems are always produced at the same time each day, so you will not be penalized if you collect at slightly different times, so long as you collect daily. Skipping a day entirely will cause you to lose gems, however. The time until the next available batch of gems is displayed below the dragon.
Dragon Colors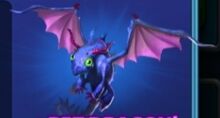 The monthly VIP pass unlocks a green dragon with yellow eyes and red horns. The annual pass unlocks a purple dragon with green eyes and fuschia horns is unlocked with the annual pass. Both dragons have pink wings and blue spikes on their backs.

With the version 18 update, you can choose which color dragon to display if you have both unlocked by visiting the VIP section of the shop.
Miscellaneous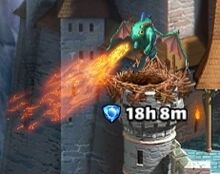 The game creators added a few fun details:
Clicking on the dragon itself will cause it to breathe fire, with accompanying sound.
When the VIP is about to expire, the dragon will stop flying. Eventually, it will start crying as well.
After the VIP pass expires, the empty nest remains on the stronghold for a few days.
Vivica mentions frost owls needing company as a part of the story. If you purchase the VIP pass, Richard notices the dragon, and Vivica confirms it is great company for the frost owls.
The dragon is shown flying next to Vivica during parts of the story, such as when you defeat the Dark Lord.
Community content is available under
CC-BY-SA
unless otherwise noted.