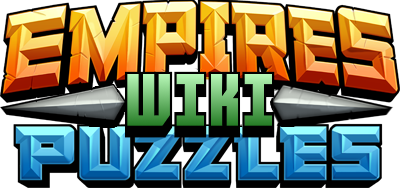 This is the unofficial wiki for Empires & Puzzles: RPG Quest. Empires & Puzzles is a completely new take on RPG games, combining match-3 battles and building a mighty stronghold - topped with thrilling PVP duels.

News (September 1, 2019)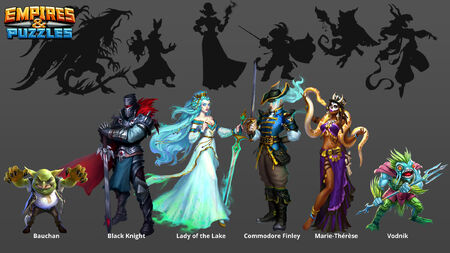 - All Challenge Events have 5 extra stages for each difficulty (15 in total per each difficulty).
- New rewards!
- New heroes! Each Challenge Event has 3 additional heroes (2 Legendaries and 1 Rare Hero).
- New item: Challenge Coin! Use 10 Challenge Coins for a free summon in the Event Summon. This item can be received as loot from an extremely rare new Challenge Event enemy.
- Each Challenge Event lasts 5 days now, starting one day earlier (on Wednesdays).
- Completion Rewards will be given even if the final stage is completed after the event ended.
Pirates of Corellia also comes back to Challenge Event rotation in October, featuring all the above updates!
New Pages
See the dropdowns above for specific pages of interest or see our Gameplay category for a list of the more integral systems that make up Empires & Puzzles. Alternatively, the entire list of all of our wiki's categories may be of good use as well.

Empires and Puzzles Wiki is not associated in any official way with Small Giant Games or any additional subsidiaries or affiliates. All game content and artwork are Copyright © 2019 Small Giant Games Ltd. and their related entities.
Community content is available under
CC-BY-SA
unless otherwise noted.