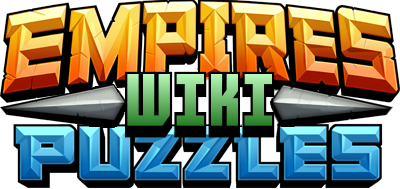 This is the unofficial wiki for Empires & Puzzles: RPG Quest. Empires & Puzzles is a completely new take on RPG games, combining match-3 battles and building a mighty stronghold - topped with thrilling PVP duels.

News (February 10, 2021)
This month brings an all new Challenge Event to join the circuit, The League of Villains, together with some brand new heroes and the possibility to pull trainers on the event summon
Uraeus is this month's HotM. He is a average mana Sorcerer that deals quite some damage to a single enemy bypassing Minions. He also deals Sand DoT to all enemies that own a Minion. His innate abilities gain him health for each killed Minion of him and make him resist Sand damage.
Valhalla does not bring a new hero but will be boosted by Valhalla Forever similar to Atlantis Rising once a month.
All information on what would happen later this year can be accessed here: https://forum.smallgiantgames.com/t/2021-sneak-peek/225198
New Pages

Navigating the Wiki
See the dropdowns above for specific pages of interest. Alternatively, the entire list of all of our wiki's categories may be of good use as well.

Empires and Puzzles Wiki is not associated in any official way with Small Giant Games or any additional subsidiaries or affiliates. All game content and artwork are Copyright © 2019 Small Giant Games Ltd. and their related entities.
Community content is available under
CC-BY-SA
unless otherwise noted.