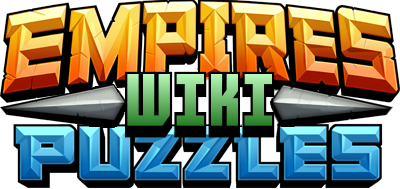 This is the unofficial wiki for Empires & Puzzles: RPG Quest. Empires & Puzzles is a completely new take on RPG games, combining match-3 battles and building a mighty stronghold - topped with thrilling PVP duels.

News (December 21, 2020)
The costume event has just started and Valhalla rising will begin later this week..
Reuben is December's HotM. He is an fast mana Cleric that reduces incoming damage over time for all allies. He also deals some cone damage. His element link gives his fire allies an Fire minion when he uses his special skill. He also has an innate ability to resist status ailments that affect mana generation. (This doesn't apply to those that stop or steal mana).
The new Valhalla hero is expected to be Lord Loki at the end of this month.
New Pages

Navigating the Wiki
See the dropdowns above for specific pages of interest. Alternatively, the entire list of all of our wiki's categories may be of good use as well.

Empires and Puzzles Wiki is not associated in any official way with Small Giant Games or any additional subsidiaries or affiliates. All game content and artwork are Copyright © 2019 Small Giant Games Ltd. and their related entities.
Community content is available under
CC-BY-SA
unless otherwise noted.