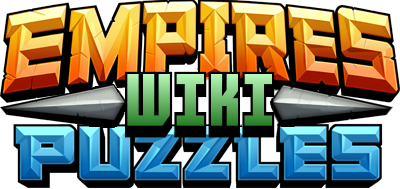 This is the unofficial wiki for Empires & Puzzles: RPG Quest. Empires & Puzzles is a completely new take on RPG games, combining match-3 battles and building a mighty stronghold - topped with thrilling PVP duels.

News (August 2021)
New Pages

Navigating the Wiki
See the dropdowns above for specific pages of interest. Alternatively, the entire list of all of our wiki's categories may be of good use as well.

Empires and Puzzles Wiki is not associated in any official way with Small Giant Games or any additional subsidiaries or affiliates. All game content and artwork are Copyright © 2019 Small Giant Games Ltd. and their related entities.