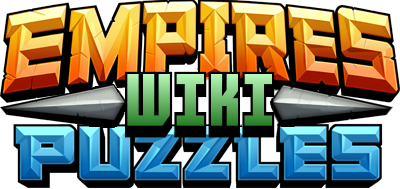 This is the unofficial wiki for Empires & Puzzles: RPG Quest. Empires & Puzzles is a completely new take on RPG games, combining match-3 battles and building a mighty stronghold - topped with thrilling PVP duels.

News (November 2021)
New Pages
See also the autogenerated list Special:NewPages.
Navigating the Wiki
See the dropdowns above for specific pages of interest. There is a list of all the wiki's categories available, though overwhelming and unorganised; for "hidden" ones, see Special:UncategorizedCategories.)
Empires and Puzzles Wiki is not associated in any official way with Small Giant Games or any additional subsidiaries or affiliates. All game content and artwork are Copyright © 2019 Small Giant Games Ltd. and their related entities.