Starting in June of 2017, Empires & Puzzles began to offer a special Hero of the Month (HoTM). They are always a 5* hero and are often especially valuable, even compared to other 5*s.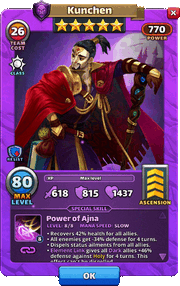 Obtaining the Hero of the Month
The current HotM is only available via Summon for one month. Unlike regular 5* heroes, you cannot obtain a HoTM through a training camp at TC20. 
Any time you summon a hero using the Atlantis Summon, Challenge Summon, Epic Hero Summon, Elemental Summon, or Seasonal Summon, or Event Summon you have a bonus 1.3% chance to pull the Hero of the Month. Troop summons and daily summons are not eligible for a bonus chance at the HotM. If you successfully pull the HotM, you will receive both your actual pull along with the HotM, giving you two heros instead of one for that particular pull.  In doing a 10-pull, you have 10 opportunities to get the HotM.
In addition, the Atlantis summons also offers 2 previous HotM heroes within its hero pool.  These are not awarded as a bonus. As such, it is possible to pull a pervious HotM and then summon the current HotM as a bonus.  The two heroes chosen are generally quite difficult to predict but occasionally follow patterns. Recent history of Featured Atlantis heroes can be found here.
The HotM changes at midnight according to the game's time zone (UTC/GMT).
Previous Heroes of the Month
Community content is available under
CC-BY-SA
unless otherwise noted.