There are Seasonal Events, Tower Events and Challenge Events.  There is one challenge event per month.  It begins on the 2nd Wednesday of the month and continues through the weekend, and rotates through six possible events in the order listed below, beginning in January 2019:
Starting in December 2021 the first 5 Challenge Events will be retired individually and then rolled up together into a Challenge Festival where each event now becomes 2 levels of 10 in the Rare, Epic and Legendary portions of the event. Each will have unique effects and it's specific heroes for that level of the challenge. The Challenge Festival is scheduled to premiere December 15-19, 2021 at present.
During the entire weekend, the Event Summon replaces the Elemental Summon, bringing along special event heroes unique to each event.  The Challenge Event itself may be accessed via the Quests button.
Tentative 2022 Schedule
Since Challenge Events begin on the 2nd Thursday of the month, the following dates should be accurate, though of course, they may be altered as SGG deems necessary. The following calendar was created with the expectation that the previous rotation will continue as is.
| Month | Event |
| --- | --- |
| Jan 20-24 | League of Villains |
| Feb 17-21 | Challenge Festival |
| Mar 17-21 | Starfall Circus |
| Apr 14-18 | Challenge Festival |
| May 12-16 | Sanctuary of Gargoyles |
| Jun 16-19 | Challenge Festival I |
| Jul 14-17 | Slayers of Fell Shadows |
| Aug 4-8 | Challenge Festival II |
| Sept 1-5 | League of Villains |
| Sept 29 - Oct 3 | Challenge Festival I |
| Oct 27-30 | Starfall Circus |
| Nov 24-28 | Challenge Festival II |
| Dec 22-26 | Sanctuary of Gargoyles |
Event Quests
Each event has three different tiers of quest:  Rare, Epic, and Legendary.  Each tier consists in 15 stages.
Rare:
Heroes must be 3* or less
Stages cost between 1 and 5 World Energy each
Epic:
Heroes must be 4* or less
Toops and items must be 3* or less
Stages cost between 2 and 6 World Energy each
Legendary:
All heroes, troops, and items are permitted
Stages cost between 3 and 7 World Energy each

See the specific event page (linked above) in question for more information on the individual quests.
Rewards & Ranks
Rewards from the Challenge Event depend upon the score achieved.  More points are rewarded for completing stages as quickly as possible with as high health as possible.
Rewards for the December 2018 Knights of Avalon offered the following reward tiers (Note: As of September 2019 Challenge Events were updated and rewards differ from the table:
Event Rank vs Reward (2018)
Ranks:
50k+
3001–50k
101–3000
11-100
2–10
1
Summon Token
x
x
x
x
x
x
Energy Flask
x
x
x
x
x
Various Items & Ingredients
2
some
lots
tons
tons
Epic Troop Token
x
x
x
x
Epic Hero Token
x
x
x
Ascension Materials
2
5
6
Avatars
1
2
4* Event Hero
1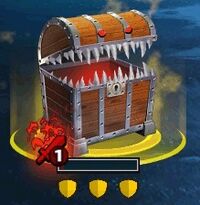 Evil Chests with special Elemental Barrier can appear randomly through all levels of battle. Once defeated and when the battle is won, a Challenge Event Token will be awarded. It takes 10 tokens to summon a hero from the individual portal.
Competition Strategy
Because there are so many competitors, the only things that set one person's performance apart from another are their luck (i.e RNG) along with how many and which items are used.
Generally speaking, it is an expensive endeavor to reach the Top 10 of any given event.  Most individuals who reach the top 10 accomplish this via the use of numerous saved and purchased World Energy Flasks.  The energy is then spent to replay poorer performing stages over and over until just one or two matches clear the entire field of enemies.  Often, the items are then used to destroy enemy bosses.
See also