The barracks is used to level up troops.
It is an advanced building.  To build it you must have at least a level 10 Stronghold, and any other building at at least level 5.  When selecting the level 5+ building you are then given the opportunity to "convert" it into this advanced building.

After doing so, you may then convert the building between the original, and the barracks, at will, for no cost, though you do need to have a builder available for the 5 second conversion.  Changing to a different building may be done at no additional cost, though you may only have one barracks at a time.
It is recommended that you use one of your forges for this purpose.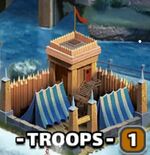 Troop Upgrades & Building Upgrade Costs
The level of the barracks building dictactes the level to which you are permitted to raise your troops.  Leveling troops is done in the same manner that leveling heroes is done: you sacrifice some troops to level up others.


| Level | 1* Max Lvl | 2* Max Lvl | 3* Max Lvl | 4* Max Lvl |
| --- | --- | --- | --- | --- |
| 1 | 5 | 4 | 3 | 2 |
| 2 | 10 | 7 | 5 | 3 |
| 3 | | 11 | 8 | 4 |
| 4 | | 15 | 11 | 6 |
| 5 | | | 15 | 9 |
| 6 | | | 20 | 12 |
| 7 | | | | 16 |
| 8 | | | | 20 |
| 9 | | | | 25 |
| 10 | | | | 30 |
 

| Barracks Lvl | Stronghold Lvl | Iron Cost | Time |
| --- | --- | --- | --- |
| 1 | 10 | 250,000 | 10s |
| 2 | 11 | 300,000 | 1d 5h |
| 3 | 12 | 388,000 | 1d 12h |
| 4 | 13 | 514,000 | 1d 20h |
| 5 | 14 | 678,000 | 2d 4h |
| 6 | 15 | 880,000 | 2d 14h |
| 7 | 16 | 1,120,000 | 3d |
| 8 | 17 | 1,398,000 | 3d 12h |
| 9 | 18 | 1,714,000 | 4d |
| 10 | 19 | 2,068,000 | 4d 18h |