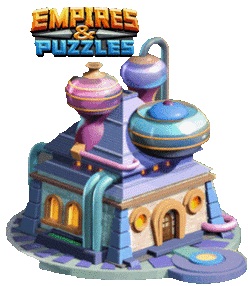 The Alchemy Lab is an advanced crafting building that transmutes lower level items into higher rarity ones, other items of the same rarity, or transmutes farmable ascension materials into non-farmable ascension materials of the same rarity. The Lab can be converted after unlocking Stronghold level 23 from any non-storage building of level at least 5.  
It was released in June 2019 along with several other advanced buildings after first announcement in December 2018 and much anticipation (see the original Idea/Suggestion thread). Some original criticisms were improved in version 30 (June 2020).
However, the Alchemy Lab has several limitations that the other crafting buildings such as the Training Camp, Forge or even Hunter's Lodge do not have:
Level 10 requires Gems to use.
You can not speed up or skip Transmutation times with Gems.
You can choose which ingredients go into the cauldron but not the output results. For conversions to the same rarity, you can influence the output somewhat because it is guaranteed to not be the same as any of the ingredients.
Alkashards
The Alchemy Lab also introduces a new item called Alkashards. Alkashards are produced with every completed transmutation, the amount depending on the Level of the Alchemy Lab as well as what items are being transmuted (see table below). 1000 Alkashards can be combined into one of 6 selectable items.
When collecting the transmutation results, the produced Alkashards can be supplemented in exchange for gems (again, see below for ratios).
Rewards for combination of Alkashards:
Slot 1: 90%: 3 star ascension material, 10%: 4 star ascension material
Slot 2: 3 star ascension material
Slot 3-4: 30 emblems
Slot 5-6: 5 five star battle items
Statistics
Each level unlocks two recipes (marked X for transmutation on the same level and U for upgrade to higher rarity).
At higher building levels, several concurrent transmutations are allowed: Up to level 4 only 1 transmutation is allowed; between levels 5–9 you can run 2 parallel transmutations; on level 10 you can run 3.
Upgrade Costs (research in Food)

| Level | Iron | Time | Research Cost – X | Research Cost – U | Research Time – X | Research Time – U |
| --- | --- | --- | --- | --- | --- | --- |
| 1 | 2367k | 10s | 510k | 652k | 1d | 1d |
| 2 | 2479k | 1d 8h | 729k | 897k | 1d | 1d |
| 3 | 2495k | 2d | 988k Food | 1199k Food | 1d 0h | 1d 0h |
| 4 | 2502k | 2d 22h | 1232k Food | 1409k Food | 3d | 3d |
| 5 | 2521k | 4d 2h | 1511k Food | 1625k Food | 3d 0h | 3d 0h |
| 6 | 2531k | 5d 13h | 1839k Food | 1951k Food | 3d 0h | 3d 0h |
| 7 | 2551k | 7d 9h | 2163k Food | 2306k Food | 7d 0h | 7d 0h |
| 8 | 2562k | 9d 6h | 2576k | 2688k | 7d 0h | 7d 0h |
| 9 | 2573k | 11d 0h | 2709k | 2809k | 7d 0h | 7d 0h |
| 10 | 2594k | 12d 13h | 3105k | 3127k | 7d | 14d |
Level types:
U: Upgrade item to lower rarity
X: Convert item in same rarity
Lvl
Ty-
pe
Item Type
Input
Input Count
Cost Food
Output
Alka-
shards
Time
Boost
1A
X
Crafting Mat.
1 star
4
4k
1 star
2
1h
1 Gem for 1 AS
1B
U
Crafting Material
1 star item
12
1.8k Food
2 star item
2
1h
1 Gem for 1 AS
2A
X
Battle item
1 star item
4
10k Food
1 star item
4
2h
1 Gem for 2 Alkashard
2B
U
Battle item
1 star item
10
3.6k Food
2 star item
4
2h
1 Gem for 2 Alkashard
3A
X
Ascension Material
1 star item
4
15.5k Food
1 star item
7
3h
3 Gem for 6 Alkashard
3B
U
Ascension Material
1 star item
18
7k Food
2 star item
7
3h
3 Gem for 6 Alkashard
4A
X
Crafting Material
2 star item
4
32k Food
2 star item
15
6h
5 Gem for 12 Alkashard
4B
U
Crafting Material
2 star item
8
15k Food
3 star item
15
6h
5 Gem for 12 Alkashard
5A
X
Battle item
2 star item
4
67k Food
2 star item
30
12h
5 Gem for 12 Alkashard
5B
U
Battle item
2 star item
7
30k Food
3 star item
30
12h
5 Gem for 12 Alkashard
6A
X
Ascension Material
2 star item
4
93.3k Food
2 star item
41
15h
7 Gem for 14 Alkashard
6B
U
Ascension Material
2 star item
15
45k Food
Farmable 3 star item
41
15h
7 Gem for 14 Alkashard
7A
X
Crafting Material
3 star item
4
170k Food
3 star item
67
1d 0h
11 Gem for 23 Alkashard
7B
U
Crafting Material
3 star item
5
94k Food
4 star item
67
1d 0h
11 Gem for 23 Alkashard
8A
X
Battle item
3 star item
4
372k Food
3 star item
135
2d 0h
21 Gem for 45 Alkashard
8B
U
Battle item
3 star item
5
220k Food
4 star item
135
2d 0h
21 Gem for 45 Alkashard
9A
X
Crafting Material
4 star item
4
627k Food
4 star item
225
3d 0h
35 Gem for 75 Alkashard
9B
X
Battle item
4 star item
4
641k Food
4 star item
225
3d 0h
35 Gem for 75 Alkashard
10A
U
Ascension Material
Farmable 3 star item
12
100 Gems + 125k Food
95%: Non-farmable 3 star item
5%: 4 star item
1050
7d 0h
150 Gem for 350 Alkashard
10B
X
Ascension Material
4 star item
1
200 Gems + 225k Food
4 star item
1050
7d 0h
150 Gem for 350 Alkashard
Alkashard attainment rates (without gem-boosting)

| Level | Type | Item Type | Shards per Hour | Days to Gain 1000 Shards | Number of Transmutations | Total Inputs | Total Food |
| --- | --- | --- | --- | --- | --- | --- | --- |
| 1A | X | Crafting Material | 2.00 | 21 | 500 | 2,000 | 2,000k |
| 1B | U | Crafting Material | 2.00 | 21 | 500 | 6,000 | 900k |
| 2A | X | Battle item | 2.00 | 21 | 250 | 1,000 | 2,500k |
| 2B | U | Battle item | 2.00 | 21 | 250 | 2,500 | 900k |
| 3A | X | Ascension Material | 2.33 | 18 | 143 | 572 | 2,216.5k |
| 3B | U | Ascension Material | 2.33 | 18 | 143 | 2,574 | 1,001k |
| 4A | X | Crafting Material | 2.50 | 17 | 67 | 268 | 2,144k |
| 4B | U | Crafting Material | 2.50 | 17 | 67 | 536 | 1,005k |
| 5A | X | Battle item | 2.50 | 17 | 34 | 136 | 2,278k |
| 5B | U | Battle item | 2.50 | 17 | 34 | 238 | 1,020k |
| 6A | X | Ascension Material | 2.73 | 16 | 25 | 100 | 2,332.5k |
| 6B | U | Ascension Material | 2.73 | 16 | 25 | 375 | 1,125k |
| 7A | X | Crafting Material | 2.79 | 15 | 15 | 60 | 2,550k |
| 7B | U | Crafting Material | 2.79 | 15 | 15 | 75 | 1,410k |
| 8A | X | Battle item | 2.81 | 16 | 8 | 32 | 2,976k |
| 8B | U | Battle item | 2.81 | 16 | 8 | 40 | 1,760k |
| 9A | X | Crafting Material | 3.125 | 15 | 5 | 20 | 3,135k |
| 9B | U | Battle item | 3.125 | 15 | 5 | 20 | 3,205k |
| 10A | X | Ascension Material | 6.25 | 7 | 1 | 12 | 100 Gems + 125k |
| 10B | U | Ascension Material | 6.25 | 7 | 1 | 1 | 200 Gems + 225k |